ISSUES ANALYSIS
Detailed analysis of the main design issues that have been examined during the performance of the Phase A. For each examined issues a proposal has been worked out...

get it

XX
GENERAL OBJECTIVES
By the time that all the issues were analysed it got self evident that a more detailed philosophical consideration was required...

get it

XX
GEOMETRY DETERMINATION
One of the main issues was about the performing of the exact curvature and geometry due to different aspects like:
arch local tensile stress
geometry determination trough the analysis of the available data
arch centering different settlings
get it

-XX
RECOVERED STONES I
The future use of these stones is, therefore, very much delicate and should be carefully analysed to avoid any reduction of their importance and value.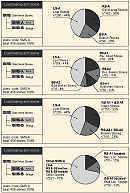 get it

-XX
RECOVERED STONES II
This statistical approach is aimed to a better impartial and technical reporting of the current situation for what concern the stones.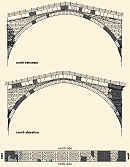 get it

-XX
ADAPTATION BETWEEN OLD AND NEW
Being these ruined portions part of the original ancient bridge of Mostar, they are very precious and they still represent with the abutments and the recovered stones the historical ruins of the monument.


get it

-XX
OTHER ISSUES
Stones appearance, declared differences between ancient and new

Use of new technology and materials for strengthening and protecting

Structural anomalies analysis
get it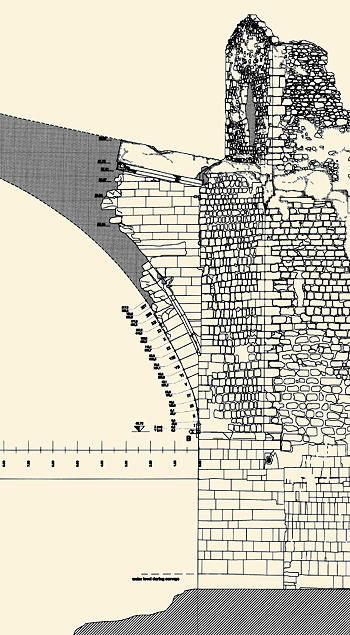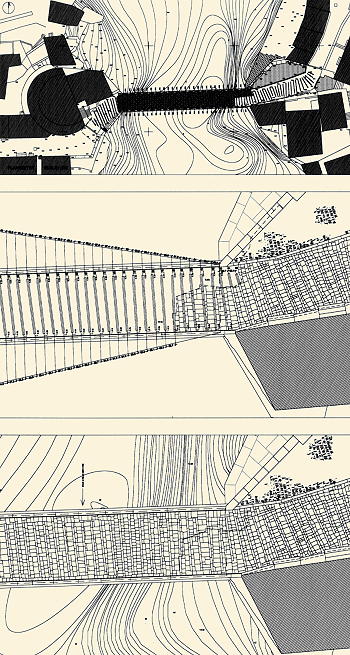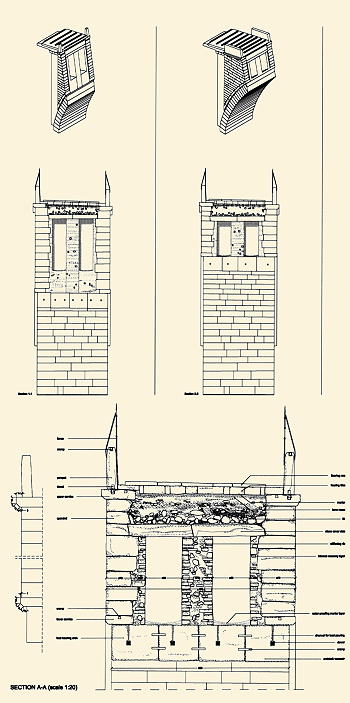 ARCHITECTURAL ANALYSIS AND SURVEYS
The most important data sources, for geometry determination of the arch of the bridge, were the drawings of the ancient surveys. These drawings are important documents and they gave the possibility of working out the previous shape of the bridge stone by stone.

- get it

XX
1955 SURVEY ANALYSIS
Of what concern the survey held during the year 1955 we only have copies of the original drawings in 1:50 scale. We do not know how many copy passages these drawings have gone trough...


- get it

-XX
1982 SURVEY ANALYSIS
The 1982 survey is undoubtedly an important document for this work, it is the most precious document that we have at the moment, and it has been subjected to a series of different checks to verify its reliability.



- get it

--XX
NUMERICAL ANALYSIS I
Differences among drawings had to be kept under control, documented and analysed, all this could not be easily investigated by printing the results of the described work, this because only the arch voussoirs are 456 and differences of few centimetres have small dimensions compared to the global graphic representation of the bridge which spans almost 29 meters. This has led to a numerical approach which has been directly related to graphics...

- get it

XX
NUMERICAL ANALYSIS II
The "2000 survey" is the conventional name here given for the geometry of "the most likely bridge of Mostar" worked out trough the described procedures. The 2000 survey is a virtual survey that derives from the analysis and the study of the available data.
- get it

XX
OTHER ANALYSIS
Geometry determination of thickness dimensions and of projecting elements - Geometry determination of the spandrels, cornices and parapets - The bridge curvature inquiry - Graphic representation of the analysis and of the results - The 3d reference seed files and the bridge springers

- get it