---
Stari Most logo by General Engineering - M.Romeo graphic design
---
Stari Most logo is by now used in any documentation, technical report, official newsletters, advertising brochure and exhibition event. That logo was first conceived by General Engineering - arch Manfredo Romeo that during the assignment for the rehabilitation design decided to work out a graphic logo that could be the symbol either of the monument either of the enterprise.

Now General Engineering is pleased that even the logo has become an official reference symbol used by other companies involved in the rehabilitation works and is pleased to see it anywhere else.

The way that logo has been worked out is here next documented.

This is the picture that was choosen for the purpose: an ancient picture coming from the archives of the Town provided by Mr Demirovic - Institute for Protection of Cultural, Historical and Natural Heritage of Bosnia and Herzegovina (ICHM). It is a marvellous view of the south eleveation which was probably taken during the beginning of the XX century.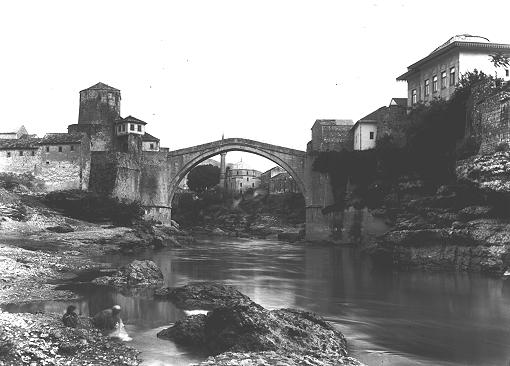 source image
In the following picture it is showed how the logo has been worked out and which skylines were used. As it is possible to note even the logo is quite close to the real configuration of the former monumental site, and also the bridge curvature in this front view is fully respected. Only one variation has been inserted: the second tower on the right was not close enough to be represented either in the picture, either in the logo. This is the reason why that tower which is further on the right has been drawn in a closer position to improve graphic appearence of the result.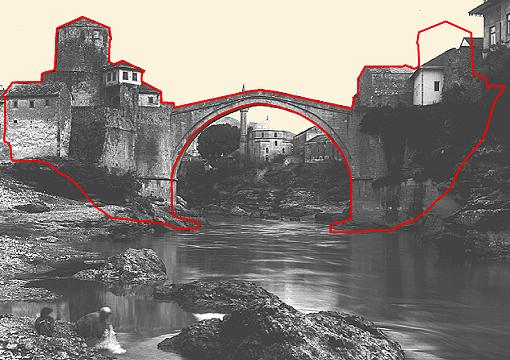 working out of stari most logo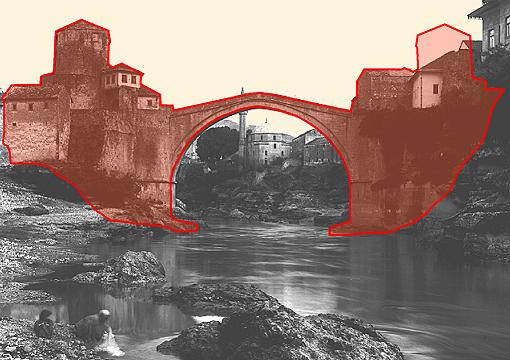 supeposition of final logo to the ancient picture of the site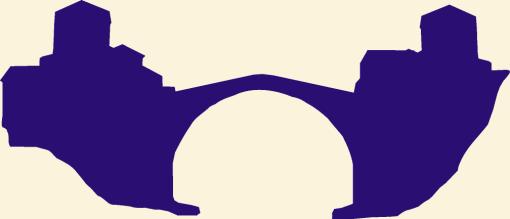 final graphic result
In order to spread out the use of this simple but symbolic logo here next anyone can download an high-quality version of it: right click on hotword and select save image with name.
download Corel Draw 8 (PC) file of stari most logo: cdr_file
download Graphic Image GIF format of stari most logo: gif_file